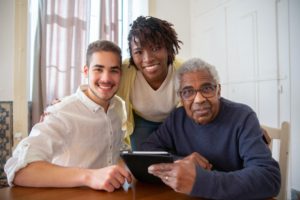 The number and variety of jobs available across the health and social care sector has been well documented of late, with care assistants in especially high demand. In fact, ITV News recently conducted the largest survey of home care leaders ever – and found that the sector is facing its worst staffing crisis in history, with 78% of providers struggling to find candidates.
With an abundance of opportunities to pick from, HCAs are currently spoilt for choice when it comes to deciding on their next role. Of course, factors including pay and location will always play a significant part in any healthcare assistant's decision to apply for – or accept – a position, but there are undoubtedly other forces at play. Post-pandemic, jobseekers are increasingly realising the value of aspects including work life balance and company culture when mapping their career path – and in today's candidate-scarce market, applicants can afford to be picky. In fact, 50% of candidates say they wouldn't work for a company with a bad reputation – even for a pay increase.
With this in mind, what should a healthcare assistant look for in a job when there is no shortage of vacancies to choose from?
Commitment to health and safety
For care providers, being able to demonstrate a commitment to health and safety is paramount, and healthcare professionals should always seek opportunities in settings where the wellbeing and protection of both service users and staff is prioritised. While the majority of employers assess new recruits for rudimentary numeracy and literacy skills, the best providers look for more than the very basics in their applicants. The Care Certificate is an identified set of standards that health and care professionals adhere to in their daily working life. Designed with the non-regulated workforce in mind, the Care Certificate gives everyone the confidence that health and care professionals have the same introductory skills, knowledge and behaviours to provide compassionate, safe and high-quality personal care and support in their own particular workplace setting.
While there is no statutory requirement for providers to implement mandatory Care Certificates, employers who endorse these standards – and support their workers in working towards their Care Certificates – are demonstrating a strong commitment to best-practice in patient care.
In addition to health and safety, Care Certification also ensures that individuals have a good understanding of: their individual role and personal development; duty of care; equality and diversity; privacy and dignity; fluids and nutrition; awareness of mental health, dementia and learning disability; safeguarding; basic life support; handling information; and infection prevention and control – healthcare assistant skills that colleagues, patients, and their families all clearly value.
Compliance
In a similar vein, every experienced HCA knows, working compliantly is crucial. With this in mind, seeking out employers with a reputation for demonstrating best practice is important if you are to operate in a safe environment and mitigate against both organisational and personal risk. Everyone working in the setting should be adequately trained, correctly screened and receive ongoing support to keep their skills up to date in line with changes in legislation.
Care Quality Commission (CQC) guidance states that providers must provide sufficient numbers of suitably qualified, competent, skilled and experienced staff to meet the needs of the people using the service at all times. Staffing levels and skill mix must also be reviewed continuously and adapted to respond to the changing needs and circumstances of people using the service. When scoping out potential employers, don't be afraid to ask about organisational structure, CPD policy and resident to staff ratios to determine how seriously the home takes its obligations.
What should a healthcare assistant look for in a job? Why culture matters
Research suggests that company culture is an important factor for 46% of jobseekers, with millennials, in particular, valuing 'people and cultural fit' above all else. With this in mind, it is important to choose jobs where there is a good cultural fit. Even if you are only planning to be with the care home for a short time, it is preferable to work with people with great communication skills and similar values, drivers and work ethic to yourself. What's more, studies show that great company culture correlates with other factors including productivity, innovation, and wellbeing.
We all understand the value of temporary workers within care settings: they pick up extra workload when demand is high; enable care providers to consistently deliver a great service regardless of external factors; and bring fresh ideas and perspective to the team.
But please note, a great work environment thrives on a healthy mix of both temporary and permanent employees. There is a need for a strong backbone of long-term team members who can support new recruits with things like locating stock and navigating systems, so that all incoming HCAs can begin delivering the care that residents expect and deserve from day one. When a home is staffed almost entirely by temps, it can create a chaotic and inefficient working environment – and it is also an indicator that the employer, for whatever reason, struggles to hold on to its staff.
A setting that you'd want to go back to
With a plethora of assistant roles to choose between, and with many employers offering equally attractive conditions of employment, your next care role should always be at a place of work that you would be happy to go back to as and when the need dictates. This is the real litmus test. When care skills are in such high demand, there is no need to accept offers with a 'this will do' attitude – look for a role that will be enjoyable, rewarding and satisfying with an employer that you can build a strong and long-lasting relationship with. You don't deserve anything less.